ABOUT KOHALA BLOG
THE KOHALA BLOG is a means of sharing facts and commentary about my efforts (and those of other concerned citizens) who care about the preservation of the Waimea area and the Kohala district and this island of Hawaii, as well as reflections of the intertwined worlds beyond.
My Personal Goals:
-To speak for those beings who do not have a voice - from Waimea's birds and Kohala's turtles to our children's children.
-To be mindful that we humans share responsibility for the fate of many -including for the demise of far off fellow beings: polar bears and penguins whose worldly habitats are dissolving into the sea.
-To use what gifts and abilities I have to make the world a little better place than it would be otherwise.
Aloha Hawai'i:
In 1971 I journeyed to Kealakekua to assist family members to open their newly acquired Natural Food Store and Aloha Theater complex in Kealakekua. In June of 2002 I moved to Waimea from Maine. I look forward to living here for as long as I am lucky to be alive.
Background to Community Interests:
From my home I can see Kawaihae Road and the Lindsey Road- Mamalahoa intersection. Every morning and evening I watch the traffic jam up at this intersection and far down Kawaihae Road. Sometimes ambulances and fire trucks are stuck in these traffic jams.
One day in 2004 while observing the Waimea traffic jam, I said to myself: Someone in that line of vehicles is wondering whether there is anyone willing to untie the political logjam that is stalling the building of the two roads which would substantially address this traffic problem. Most importantly, if these two roads that would circling Waimea town, this would keep Waimea from becoming a strip mall on a cross island traffic grid and would preserve some of the beauty of Waimea town. I joked to myself, well Margaret you have a bunch of letters after your name: law (J.D.), education (M. Ed.), and cultural anthropology (B.A.), why don't you put those letters to work for this effort. So with this challenge to myself began my involvement in preservation efforts on behalf of Waimea and beyond.
During the past five years I have been involved in various community projects including: a successful group effort to protect Waimea's Hoku'ula pu'u from future subdivision development; successfully initiated the intra-Waimea shuttle bus idea and lobbied with others to implement this in-town program (which intra-town service was then also implemented in Kona and Hilo); successfully brought legal action on behalf of community members to require the County to enforce the 1992 Parker Ranch Rezoning Ordinance and as a result of which, by May of 2010, the Parker Ranch Connector Road will loop around Waimea town from the Parker Ranch rodeo grounds to Ace Hardware at Kamamalu Road. There is still a lot of work to overcome the political obstacles to the Lalamio Connector Road. This other road would extend from Mamalahoa Highway where it will link the Parker Ranch Connector to the Kawaihae Road near the transfer station. And though there are many majestic trees that have disappears over the past 5 years, there is still much natural beauty in Waimea worth preserving.
Life as work in Progress: view of Waimea-town from my diningroom table-work desk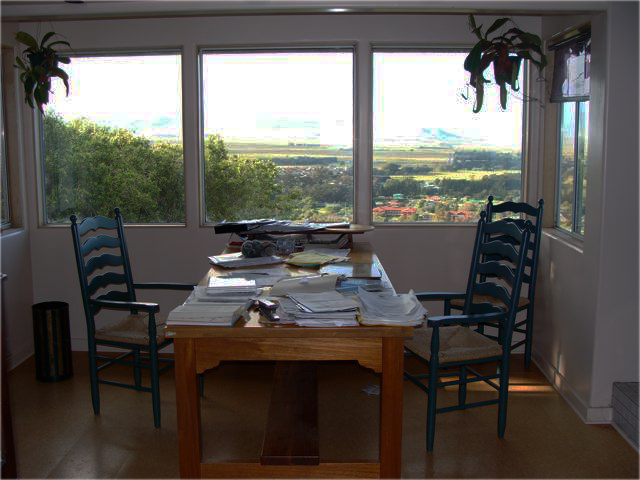 Note: bird photos by neighbor Audrey Kyle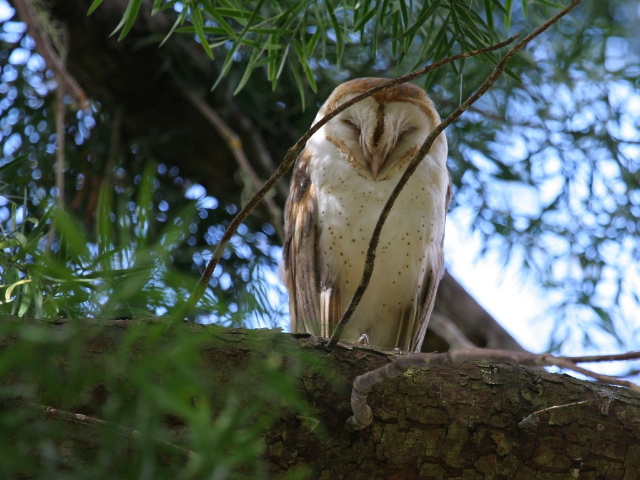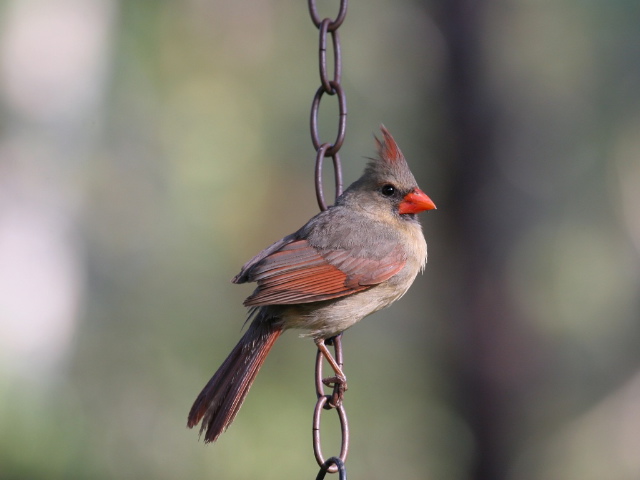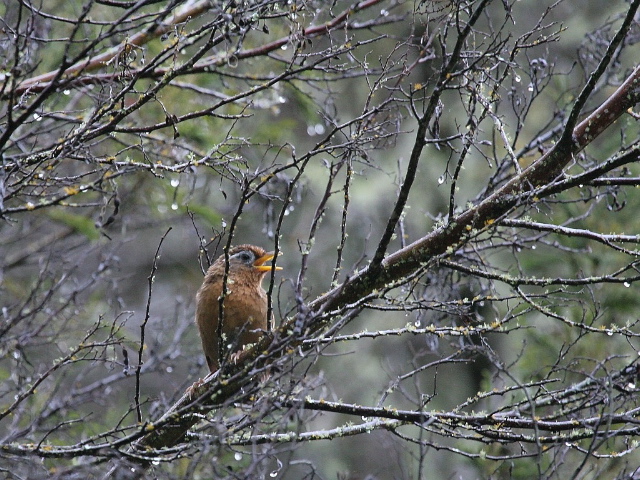 ^A melodious thrush and some other residents from Waimea