DLNR- Proposed Conservation District Rules (9/7); Underfunding DLNR; Hannemann takes Cheap Shots With No Suggested Remedy
Submitted by margaretwille on Sat, 08/14/2010 - 7:39pm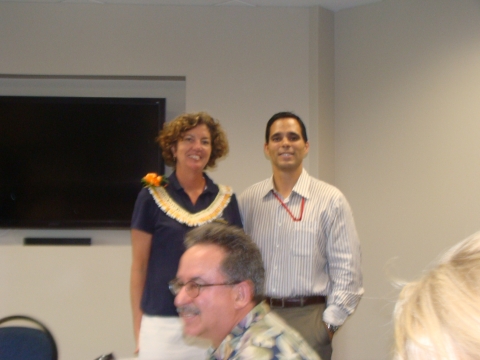 [The above photos was taken at the August meeting of the Natural Resources Section of the Hawaii Bar Association. Here Jesse Souki welcomes Laura Thielen to the meeting.]
LAST CHANCE TO SUBMIT COMMENTS TO DLNR RE PROPOSED RULE CHANGES TO CONSERVATION DISTRICT.
IMPORTANT: If you want to submit comments to help protect the Conservation District (especially the mauka mountain watershed areas) the deadline to postmark your comments is September 7 -- this Tuesday: Read the proposed rule changes HERE
. Your written comments should be sent to DLNR Office of Conservation and Coastal Lands P.O. Box 621 Honolulu Hi 96809
No, everything in these porposed rules is bad --- but that is part of the problem -- this is 50 or so pages of rules that are up for major changes throughout the document-- but the rationale for the proposed changes is not provided. Yes the reasoning for some proposed changes is obvious, but even then there are many "hidden" agendas. So unless you are a hired consultant for folks who want to conduct business in the Conservation District -- or you regularly consult for residential owners along the shoreline, you are likely one of the general public who will be very affected by these rules, but who will not know enough to venture to comment. HOWEVER here are a few points you could make without knowing all the intricacies of these proposals:
1. DLNR should not change the rules to allow, and essentially promote commercial forestry or other commercial businesses in our conservation districts. [Alternatively would you prefer to watch the developers handled by top name consultants - rape our watershed forests under the guise of a "comprehensive management plan" in which a few pathways for endangered birds will be carved out and a few cultural sites thrown in for cosmetic looks.-- and the rest is a cut and run theme of commercial logging. There should be no commercial use of the Conservation District. Period. (And if you want to know why -- read the mission of this District and consider the reforestation needs for watersheds and watershed buffer preservation.] Keep in mind that the quantity and quality of our forests in the watershed areas affects the water absorption ability of the watershed - so our water resources are adversely impacted by logging in this District.
2. The proposed change to subsection 13-5-31(g) would modify the "standing" requirements (a person's right to seek judicial review) to only allow standing to those who have a specific property interest in that area of the conservation district i.e. those who will be directly affected such that their interest is clearly distinguishable from that of the general public. Well that sure will eliminate the possibility of an appeal by anyone who is likely to be concerned but is not a neighboring property owner. I am told that this change really isn't a change because in practice they don't grant standing to anyone who doesn't meet this standard anyway! HOW WRONG. What happens in the Conservation District impacts us all -- regardless of whether it is directly or indirectly.
3. Selective Removal of trees where each tree is replaced on one to one basis with a trees that are "appropriate" to the site location.[Pg 5-24 P-11 B-1] So under this rule -- anyone can cut a row of kiawe - that are good for stablizing the shore -- or other mature trees forming a windbreak - so they can add or enlarge some area of impermeable concrete --and replace any significant tree with a a token "native" trees to justify the removal.
4. Certainly there should be a public hearing to put anything on the invasive species list. Seems as if "invasive species" is a good way to label whatever anyone doesn't want on his property --- this should not be a vague easily designate-able category... See page 5-19 P-4 (a-1) which would now allow for any species that the department whats to name on its own without any public hearing. For example, how in the world could anyone want to eliminate the beautiful red vented bulbul bird (because it eats invasive species seeds - I am told)?
I could go on and on.... but you get the idea.. Even if you just submit one or two comments, it is helpful.
XXXXXXXXXXXXXXXXXXXXXXXXXxxxxxxxxxxXXXXXXXXXXXXXXXXXxxxxxxxxxxxxxxxxXXXXXXXXXXXXXXXX
So as you can see I have my criticisms against DLNR and these draft Conservation District rules. In addition I have a lawsuit on going with the Department -Wille v. BLNR et. al. [Third Circuit 3CC10-1239K ] .
However, at the same time, I recognize that one of the biggest problems is that this agency is way underfunded given the breath and depth and complexity of its responsibilities. Over the past couple years, this Department lost a lot of good staff thanks to this Republican administration. I sat through several State Senate hearings concerning funding of various DLNR programs -- all being gutted of funds and staff.
Currently DLNR receives less than less than one percent of the total state budget -- yet has 13 or so departments each with major responsibilities. [I have attached a copy of the Department's January 2010 budget statement submitted to the State legislature].
Recently Gubernatorial candidate Neil Abercrombie made some criticisms of DLNR's handling of some issues, but to Neil's credit he pointed out that DLNR is underfunded -- and he made a very good suggestion --- that millions of dollars should be moved from the top-heavy bureacratic out-of-touch Hawaii Tourism Authority funding. On the other hand arrogant Mufi Hannemann (who no doubt is buddy buddy with the folks at Hawaiian Tourism Authority) recently took some cheap shots at DLNR -- without ever mentioning how underfunded and understaffed this Department is now. For example, given that the Department's budget has been gutted -- can you blame the Department from requesting some fees be paid by those who benefit from special uses at DLNR faciliities, e.g. for parking at Honokohau Harbor? BELOW SEE the August 27, 2010 West Hawaii Today article in which Director Laura Thielen takes on arrogant Mufi Hannemann for his over-the-top criticisms of DLNR programs.
The following are photos of the August 9th Kona public hearing about the proposed new conservation rules. Sam Lemmo is the DLNR Rep -- he is head of the DLNR's Conservation District. Mel Mason is testifying in the top photo --- pointing out the lack of concern for cultural Hawaiian issues in the proposed rules.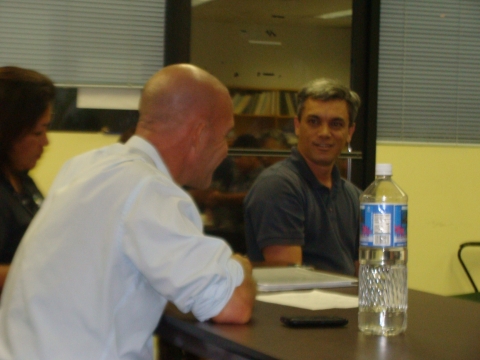 More pictures of the August 9th hearing. Chuck Flaherty sitting in front.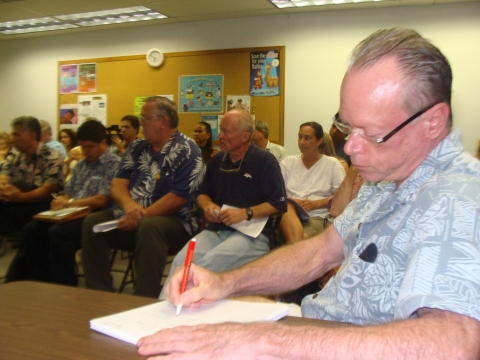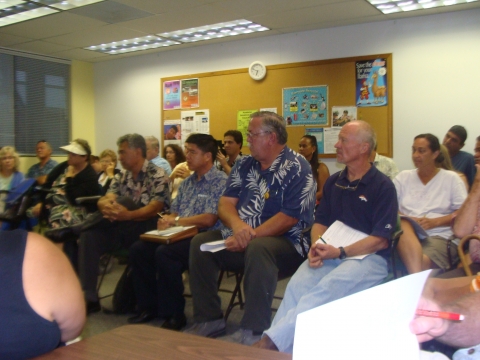 HERE is the January 2010 State Budget testimony for DLNR:
Here is the WEST HAWAII TODAY LETTER TO THE EDITOR FROM DLNR DIRECTOR THIELEN IN RESPONSE TO MUFI HANNEMANN'S REMARKS ABOUT HONOKOHAU HARBOR:
DLNR Director Thielen responds to Hannemann remarks regarding Honokohau Harbor
Article from West Hawaii Today Friday, August 27, 2010 8:42 AM HST
Some boaters in Honokohau Harbor have questioned the state's management. They want to keep all the revenues from the harbor - including lease rent from lands near the harbor - for exclusive use at Honokohau at the expense of our statewide system of harbors.
And Mufi Hannemann, in his campaign bid to outdo his opponent and take shots at the current administration, has jumped on the bandwagon to support these demands without knowing the facts.
Their proposal would unfairly benefit a select group of boaters who are already being subsidized, and come at the expense of about 13,000 other boaters, hundreds of canoe paddlers, ocean recreation activities, and coral reefs across the state.
How is that possible? Honokohau boater fees do not cover the cost of operating Honokohau. Not one of the state's 20 small boat harbors is fully supported by boater fees. Every single slip holder in every small boat harbor is subsidized by revenues that don't come solely from the pockets of boaters in the harbors, but from a combination of sources such as lease rents paid by restaurants patronized by the general public, the general public parking in harbors, a small percentage of the state fuel tax, and federal grants.
Honokohau boaters are arguing that the rents from lands near Honokohau are "theirs." But that is simply false. The lands around the harbors were not paid for by boaters. They are public lands dedicated by the state for the public purpose of the statewide boating and ocean recreation program. Those lands belong to all of us and are for the public benefit - not just the select few who have slips in one harbor.
The state's policy has always been that everyone in Hawaii should have access to the ocean. Accordingly, the rents from lands near the four commercially viable harbors subsidize all 20 small boat harbors, the 25 boat ramps, piers and landings outside of harbors, and the ocean recreation program.
This is no different than the way we have been able to operate our statewide system of airports that have enabled all islands to have quality facilities that they would otherwise not be able to afford.
If we used the land rents from the four commercially viable harbors exclusively for those four harbors and their few hundred slip holders, we would have to shut down or severely reduce the 41 other facilities across the state.
However, these 41 places are virtually the only ocean access for the bulk of Hawaii's 13,000 boaters and hundreds of canoe paddlers. In addition, these non-boater revenues support the removal of abandoned boats on reefs, managing ocean events such as canoe races, and operating the boating safety program.
Honokohau is not mismanaged. During the past seven years, the Lingle-Aiona Administration has implemented more than $100 million in capital improvements in small boat harbors across the state. Honokohau is currently receiving almost $2 million in road, water and electrical capital improvements this year. The slip holders in Honokohau have seen the benefit of all their fees put into the harbor and more.
While the slip holders complain that their facility does not look like the private marinas, they need to understand that they are not paying market rates for their slips. This is not mismanagement. Not one of the boaters with slips in small boat harbors is paying market rate for slips. DLNR has recently adopted a five-year step increase in slip fees, but even with the planned increases, these slips will continue to be subsidized.
This is only possible through our statewide system of funding.
The charge of mismanagement is merely an attempt to distract people from the fact that boating fees do not cover the cost of the program and that boaters do not support paying the same rate as their peers in private harbors. What the Honokohau boaters are really claiming is that they are entitled to an even greater subsidy than they already receive - even if it comes at the expense of the majority of other Hawaii residents accessing the ocean through the majority of boating facilities.
Hannemann should stop making statements that are simply untrue. He should stop denigrating DLNR's hard-working employees by calling for a "cleaning house" of the department. While I will be leaving at the end of the year, our civil service employees, who have performed admirably, will stay on and continue executing their jobs.
Finally, Hannemann needs a better understanding of this program before making promises that unfairly benefit a select few and negatively impact so may people across the state. That is, unless he plans on increasing taxes or fees on everyone else to offset the increased subsidy to Honokohau.
Laura Thielen
Chairwoman
State Dept. of Land and Natural Resources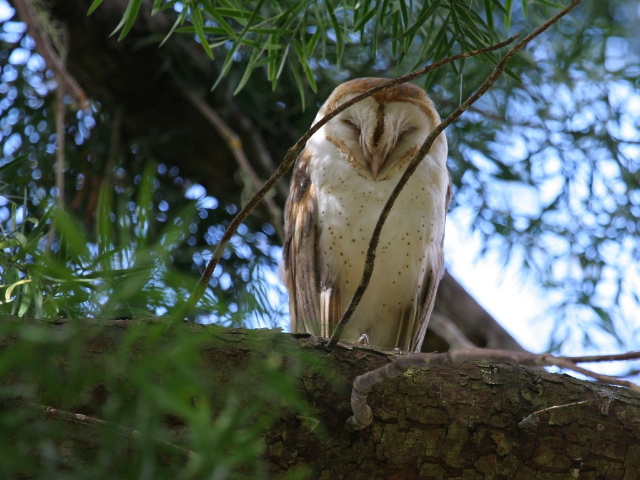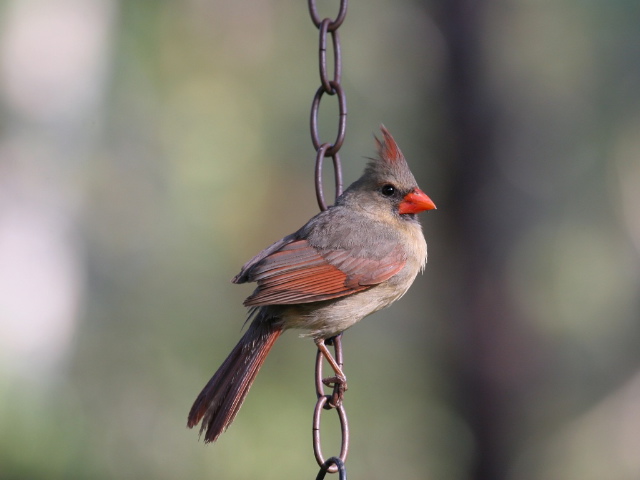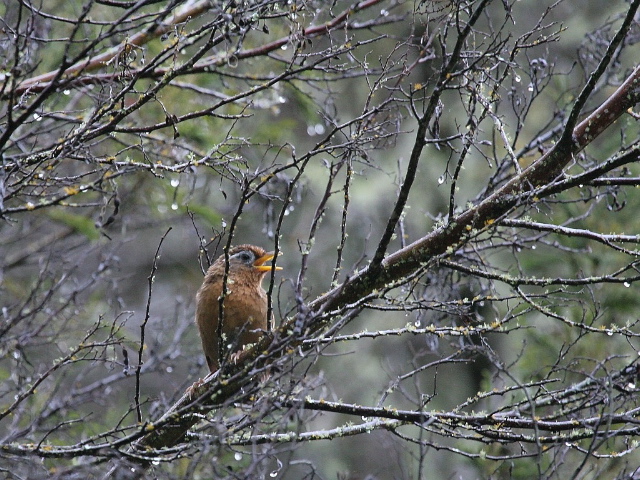 ^A melodious thrush and some other residents from Waimea