Council Comic Relief: Shannon Rudolph's Great 6/16 Testimony on Yoshimoto's "coup" resolutions 200, 201, 202: laughter needed
Submitted by margaretwille on Fri, 06/19/2009 - 1:57pm
Here is Shannon Rudolph's great comic relief testimony from the County Council hearing on June 16th. At the Council hearing, I kept losing my internet connection while trying to transcribe key points of those who testified. Somehow I lost in cyberspace most all of my transcription of Shannon's presentation. She kindly sent me these notes. Please read. Her testimony incorporats the comic relief that is essential to surviving crisis and tragedy.
Reso 200: Aloha council members,
As Lily Tomlin says, "No matter how cynical you get, it's almost impossible to keep up."
I didn't know Lily had ever attended a Hawai'i Council meeting!
When I first heard of these "Groundhog Day" changes it made my blood boil. "Back to the future", I thought; back to the bad old days of Kona having absolutely no representation - only footing the bill. It reminded me of years ago when outside of a council meeting, Jimmy Arakaki laughed in my face - when I inquired as to why he wasn't in the council meeting listening to ongoing testimony; he said he had signed in but did not have to attend. He and his chums standing with him, thought his comeback was very funny.
It reminded me of days long ago, when Steve Yamashiro, I believe, tried to pass a reso that said citizen testimony should come AFTER the council had already voted on the issue at hand.....Now don't get any ideas....Ah yes, the good old days when all of the power was concentrated in the hands of the few.And here we are again at the same juncture; "groundhog day" power play.
I think its very despicable to kick out and remove Ms. Naeole from the powerful Chair of the Human Services Committee, a committee uniquely suited to her talented gifts of dealing with people - in a position that holds a lot of power doling out real money to non-profits, enabling her to make many, many new friends and supporters. This reso is tricking her with the empty hat of Vice- Chair, with tons of work but no power at all. Very clever; you've found her soft spot - you know she likes hats, even if they're fake.
Upon careful consideration - against my initial reaction and better judgment on this reso -
I like Ms. Naeole - if she REALLY wants this thankless appointment of Vice Chair over some real power and prestige as Head of Human Services, I will support her, even though it will cost her so much - in terms of giving up the tremendous power she already wields as Chair of her committee.
...But I have to tell you, she's not going to be happy at all when she finds out how badly you have tricked and abused her by this empty promotion and taking away her real power. Clever. Very clever. I will support this reso also, because - I'm sure Mr. Hoffmann is completely sick of the job and would welcome not having the huge responsibility of working so very hard, for so little in return - Your week-ends are your own now, Pete. ....And sorry Emily, your real friends tried to save you today.
Mahalo, Shannon Rudolph
Reso 201: Aloha council members,
Whoever thought of reso 201 is absolutely brilliant, but I must say, a little late - I expected this reso on Nov. 5th.
Now normally I would NOT be in favor of such a move. I think its very important that the work load is spread out to all of the council members, just to be fair to all taxpayers and council people, too. However, the more I think about the forced changing of the guard - the better it sounds. I think I've had a change of heart in fighting ridiculous resolutions - I've seen the light, its no use fighting or trying to sanely reason; not this year anyway.
While I sincerely appreciate Ms. Ford's, Mr. Yagong, and Mr. Hoffmann's incredibly hard work in the past few years; and I DO mean that sincerely - tirelessly working as true public servants, going beyond super human to do the people's work and be paid in nothing but nausea and grief in return. (...and a shout out to Angel, Bob, Julie, Nancy, and Curtis, too - Mahalo!)
In this day and age the cold, hard facts are: the county needs to be run not as a "baseball game" but as a business. We need to emulate all of the wildly successful corporations doing business today; you know, the ones being bailed out on the taxpayers dime? These guys are very slick and we need to be more like them.
The first tenet of big business is to cut costs, then, get rid of anyone from any leadership role with years of experience and dedication to county business - and bring in the new, young pups to try their hand; how else do you expect them to learn the ropes and get any experience running the county? The old guys have had their day and deserve their rest, let the new guys run it into the ground so the bosses can sell off the pieces; that's how business is done in America today and we need to keep up with the times.
I think the four, yes four, experienced council members being deposed today have worked themselves to the bone and deserve to kick back and watch the pups make a mess of the people's business; just bide your time folks, 2010 will be here before you know it.
In the near future when our county becomes mired in a mangled mess of neophytes, maybe then the people will be much more careful with their sacred votes. In fact, you may not see anymore opposition from me this year; the worse you shoot yourselves in the foot, the more the people will remember come November. I support reso 201 and any other idiotic thing you can come up with.
Mahalo. Shannon Rudolph
Reso 202: Aloha council members,
I support reso 202 for pretty much the same reasoning as reso 201.
At first, the merging of seven committees into five didn't sound like such a good idea to me. To be fair, I thought every council member in every district should have a role to play in sharing the workload - but then I thought, what the heck, no one cares about fair so why not merge them all into one super committee to save money. We could also sell hundreds of county office chairs on ebay and everyone could sit on ginger crates; now there's another great money saving idea!
Even though residents will be greatly inconvenienced and have to wait MUCH, MUCH longer to testify in person - perhaps all day, if recent meetings are any barometer, at least the new guys as Chairs will have double or triple the workload - which I guess will keep them off the streets and out of trouble - so this may actually turn out to be a pretty good resolution.
In consolidating these committees, residents will become so sick of waiting to testify and listening to the bickering, they just won't show up at all and will be very upset about feeling left out of the process - counting the days 'til November - but at least you won't have to spend your time listening to them whine about good government.
And Lord knows they deserve it, the added bonus will be: putting your most experienced council members out to pasture, throwing a sharp stick in the wheels of a smooth running county machine during tough times. So heck, I'm all for this change, if it hastens the implosion of an unbalanced and unfair council and makes people take their vote seriously next election day and for every county election into the near future. Can't beat 'em- join 'em - I support reso 202 - and all I got was this lousy T-shirt.
Mahalo. Shannon Rudolph
p.s. I really liked the way you hid the agenda on the clerks page last week, instead of on the council meeting page, that was a good trick, keep it up.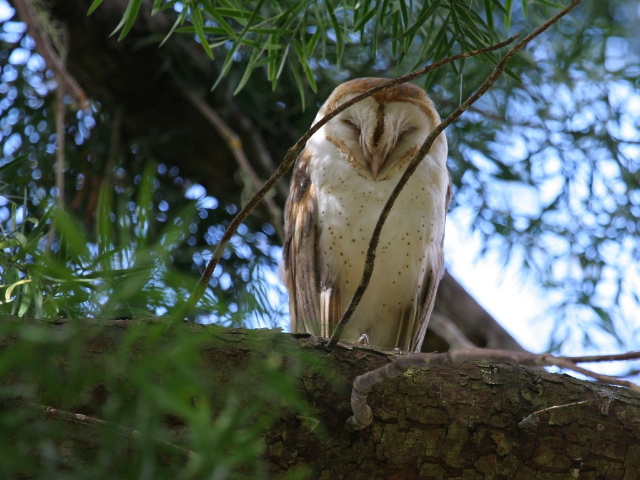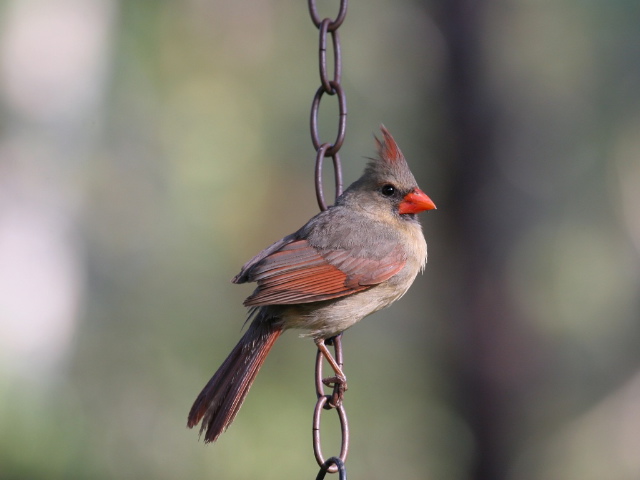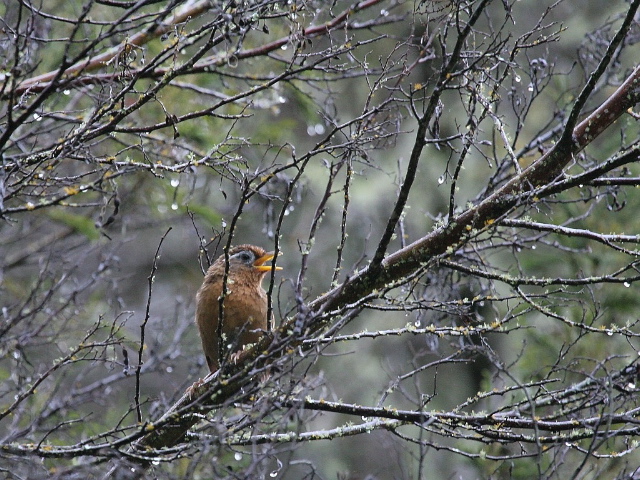 ^A melodious thrush and some other residents from Waimea